To:

The Community. Carlow County Council. Greencore. TD. Public representatives.
Save The Strawhall Woodland, Carlow, Ireland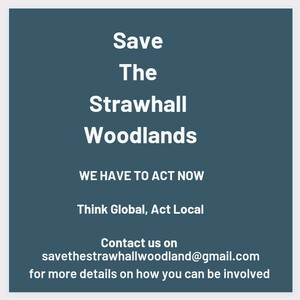 Access to conduct a survey of the area.
Access for the public as a public amenity
Protect the wildlife under the Wildlife Act 1976
Why is this important?
We have come together to draw attention to a 28.87 acre site being sold in Carlow. Gateway & Adjoining Lands, Strawhall, Athy Road, Carlow Town, Co. Carlow is for sale by Greencore Group plc. Advertised as "Tremendous potential for further development"
There is zero mentioning of any mature trees nor woodland within the advertisement; lot 6 has a well established woodland (Link below for sale details)
We are calling on you to help us protect these trees from potential destruction.
We want these woodland back as a public amenity. .
We want to protect the wildlife under the Wildlife Act 1976 that call this place home already.
Trees are vital to preserve and hugely important to biodiversity in the ongoing climate change.
And as we have seen before, trees and woodlands removed overnight; we have come together to prevent this from happening.
We need our trees!
Though this is not solely about the trees and wildlife this is about the community coming together seeing the potential these lands already have for the community. For our future community. Protecting and enhancing our environment for future generations.
And only a brisk walk away from our town centre.
What we need?
We need time. To buy time we need support. We need you to join us, sign our petitions, and share our social posts. Write your support to newspapers. Contact the local representatives. Contact the Carlow County Council. Spread the word for the love of our trees we are coming together!
Already a large community has come together in Carlow and further nationwide to bring these woodlands into the public domain.
We hope you will share some support and hopefully some day you will get to come visit 😉
Contact us [email protected]
(Link to sale details below in "campaign website")