To:

Micheál Martin Taoiseach, Leo Varadkar Tánaiste and Minister for Enterprise ,Eamon Ryan Minster for Transport
Private Small Bus Operators Of Ireland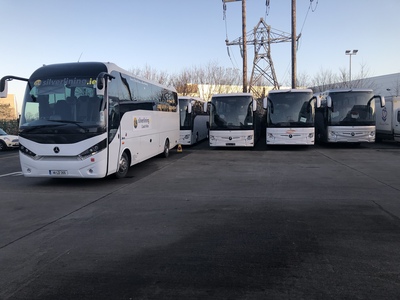 All licensed bus and coach operators need to be included and not excluded from small business grants .Our industry is one of the ones that have been hugely affected by covid19.Our industry is on its knees and its not looking to healthy for us .School transport is properly going to be the only work available at the moment .
They need to recognise us as viable important businesses in Ireland.
They need to listen to what is happening in our industry and act on it .
They need to stop giving the same false answers that are irrelevant to us .
They need to know the difference between a wage subsidy scheme and a grant .
We need grants, financial Aid and restart grants to list just a few .We have been excluded from every thing including school transport financial support for covid19 supply's.
Our Government are not aware of what our industry is about hence why they keep on excluding us from restart grants.
Extension on holiday breaks with banks Is a must without interest been charged .
We also need a more trusted industry body that has all coach operators interests at heart but we also need to be represented with professionalism and honesty .
These are just a few of the things needed for this industry to survive
Why is this important?
Our industry moves Ireland , school children,Airports, train stations ,Ports ,Government Departments infant when groups of people need to be moved around we are the industry that does it .
We are the ones that move Ireland with out us no one gets to their destinations in one vehicle .
Our full size bus takes 6 cars of the road for every full size Coach .We transport school children on a daly basis .Our precious daily cargo is people dont wait till its to late when the operators are no longer in business .
School transport have been totally ignored in relation to getting back on the road and having extra cleaning time cleaning equipment and not funding.
Refund on vehicles that have been parked up since March on road tax,cvrt or extenstions
Allowing this industry claim vat on all business like our counter parts in Northern Ireland.
How it will be delivered
The petition will be delivered along with a cover letter stating exactly what is needed for licensed operators to survive the coming winter months and into next year some is listed above but others will be listed in accompanying letter.