To:

Taoiseach & Department of Justice and Equality
One Stamp for All Spouse and Dependents Immigrants #Equal Rights Ireland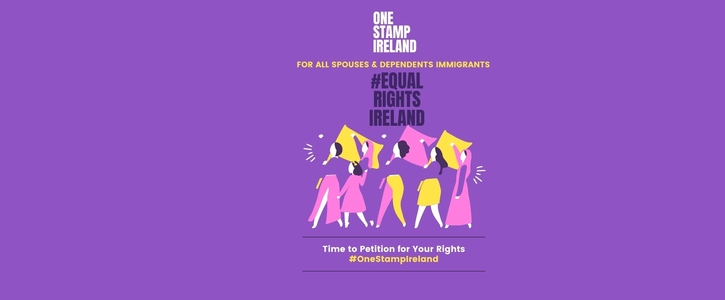 Dependants of Stamp 1/ General Skills/Critical skills/Stamp 4 permits holders should be given the same and equal stamps and eligibility to work & study in Ireland, and No More Misleading Stamps for Immigrants.
Government should make sure companies should comply with DBEI's directives and companies should be held accountable for not accepting the dependents either on stamp 1g/stamp 3.
What can the Government do to help to support Immigrants?
- Provide a new stamp to the dependents or same as their permit holders, not same as graduates on job search.
-Access to the job market by creating awareness and forcing companies to comply.
-Access to Springboard courses
-Banks to consider stamp 1g as a 2nd Income
-Access to apprenticeship as SOLAS
-Eligible to EU fees to take up a course at a university
-Stamp change not required to take a degree course at a university
Why is this important?
Immigrants spouses are being treated and marked as herds by giving them stamp 3/1g, making it impossible for them to access the job market. What are the spouses being punished for??
It is causing mental and health deterioration for the skilled immigrants who are suffering financially by being dependent on spouses. Isolation during covid-19 is building up some serious mental concerns as depression and suicidal thoughts.
Furthermore adding to the misery of immigrants, stamp 1g is given to the graduates on job search and spouses of CSEP holders and hosting agreement holders. Recruiters are not willing to entertain anyone on Stamp 1g or stamp 3. Now with many of them listing an eligibility criteria as EU/Stamp 4 holder only may apply.
Immigrants' spouses who have stamp 1g or stamp 3 are as if they are handcuffed for a crime which is simply being a dependent to a permit holder or critical skill worker.
Dependent immigrants want to work and equally contribute to the society and pay taxes.