To:

SHANE ROSS, Minister for Transport
SAVE DUBLIN'S TREES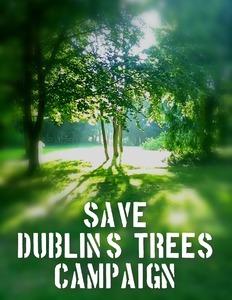 We want Alternative Routes Options and Restructuring of the National Transport Authority's proposed "BUS CONNECTS PROJECT " to have Environmental Impact Awareness at the centre of its Core Development & Planning.
We want them to listen and work more closely with the 16 communities/areas that are currently set to suffer an unprecedented loss of thousands of mature living trees and important local wildlife.
We want the voices of Dublin's people, community and environmental future to be respected now, not later! We have a right to be part of the Development Ireland's Environmental Future.
WE WANT TO STOP THE UNNECESSARY KILLING OF MATURE TREES AND WILDLIFE IN DUBLIN AND IRELAND.
DUBLIN, If we get this wrong there is no going back to fix it.

Here are the 16 Proposed Areas in Dublin where Mature Trees will be cut down to make way for the "BUS CONNECTS CORE CORRIDOR PROJECT"
Ringsend/City Centre
Blackrock/Merrion
UCD/City Centre
Bray/City Centre - (No mention of Shankill)...
Rathfarnham/City Centre
Kimmage/City Centre
Tallaght/Terenure
Greenhills/City Centre
Clondalkin/Drimnagh
Liffey Valley/City Centre
Lucan/City Centre
Blanchardstown/City Centre
Fingals/Philsborogh
Ballymun/City Centre
Swords/City Centre
Clongriffin/City Centre.
There is no mention in any of the 16 proposals of how many trees will be getting cut down per route, or how many trees they are realistically planing to replant. Nor will they be willing to replant/replace the trees and wildlife lost from the front/back gardens of Irish Peoples Homes across the Capital.
Why is this important?
It looks as if all routes leading to City Centre will suffer a great loss in trees/wildlife.. And Shane Ross, Minister for Transport and the National Transport Authority have been extremely vague on what steps they are willing to take to avoid this!
Quite simply, this is not good enough:
Dublin you have a choice to make,
Dublin you have voice to be heard,
Dublin this is your city and your home,
Dublin don't just let them do what they want this time!
Dublin there must be an ecological balance in progress and the future.
DUBLIN IF WE GET THIS WRONG THERE IS NO GOING BACK TO FIX IT.