To:

DLR council, National Transport Authority, Department of Transport
Cycle lane along coast from Dun Laoghaire to Blackrock (Booterstown)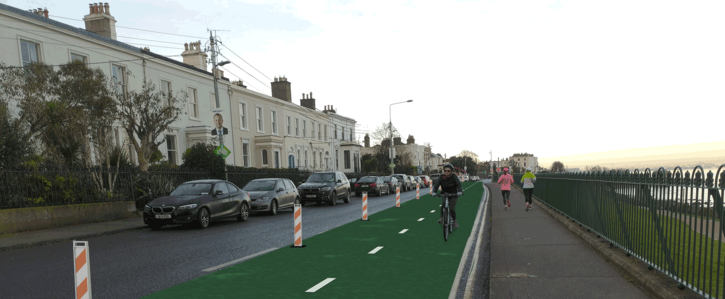 Trial a segregated cycle route along the coast from Blackrock to Sandycove for one year. Create one way for traffic along the coast all the way from Blackrock to Sandycove. This will allow people to cycle both ways on the sea side of the road. It should connect with the cycleway on the Blackrock bypass in order to connect with the schools. Use wands and armadillos to close off one lane of the street to provide a safe cycling environment.
Why is this important?
We need a safe place for our children and adults to cycle on the road for commuting to school and work. This would also provide for recreational cycling and people to enjoy the coast in a safe and peaceful manner.
At the moment there is no continuous safe cycling for people in DLR.
Most people currently don't cycle due to the dangerous nature of the roads in DLR.
This could provide an impetus for cycling with a link all the way from Booterstown to Sandycove.
There's been talk of a cycleway along the coast for over 20 years and still no sign of it.
How it will be delivered
Deliver the signatures to DLR council and councillors.