To:

Minister for Health, Stephen Donnelly
Endometriosis March Ireland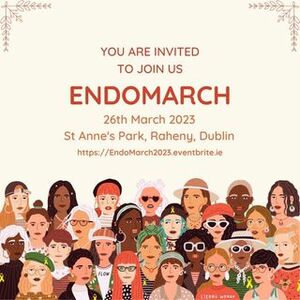 Reconsider the ineffective action plan announced this week. Hormonal suppression at primary care is not what we need. More surgical options are desperately needed. And more accessible financial funding for patients to travel abroad for effective surgical intervention in the interim. Ensure that endometriosis will be considered under the MCAP program following worldwide research supporting cannabis treatment. Ensure endometriosis is recognised for the disabling condition it is when people are seeking financial support such as disability allowance.
Why is this important?
Endometriosis affects 200 million people worldwide and yet there's only 200 specialists globally to perform effective excision surgery. Every single day patients are suffering debilitating chronic pain, extreme fatigue and a variety of horrific symptoms which leaves us with zero quality of life. Our economy suffers because we are unable to work. In the UK endometriosis costs the economy £8.2bn a year in treatment, loss of work and healthcare costs. A note from the organiser below.
A chara,
We invite you to join us for the Irish EndoMarch 2023 on Sunday 26th March. This event is part of the global EndoMarch movement, aimed at raising awareness about endometriosis, its associated issues, and creating a supportive community for those affected.
Endometriosis has a significant impact on the lives of women in Ireland, and more needs to be done to improve diagnosis, treatment, and support for those affected by the condition. A dedicated multidisciplinary centre is required to improve care for those living with endometriosis in Ireland.
Improved Diagnosis: A multidisciplinary centre would assemble an expert group from diverse backgrounds, encompassing gynaecologists, radiologists, pain management specialists, pelvic physiotherapists, and surgeons. This collaboration would result in a precise identification of endometriosis, leading to a prompt and accurate diagnosis for patients and reducing the
requirement for multiple surgeries and procedures. In Ireland, the delay to diagnosis is an average of 9 years.
Coordinated Care: A multidisciplinary centre would allow for seamless coordination of care, with all members of the team working together to develop and implement a comprehensive treatment plan. This would minimise the current issues faced by those with endometriosis and reduce the risk of miscommunication, ensuring that patients receive the best possible care. At present, women are left to source individual care providers with no standardised model of care.
Access to Expertise: A multidisciplinary centre would bring together a team of specialists with a wealth of experience and expertise in endometriosis. Patients would have access to the latest treatments and technologies, as well as the expertise of specialists who are up-to-date on the latest research and developments in the field. It would also allow for Irish research teams to recruit participants and generate new research potential.
Improved Quality of Life: A multidisciplinary centre would provide a comprehensive approach to care, including pain management and support for emotional and psychological well-being. This would help to improve the quality of life for patients with endometriosis, reducing the impact of the condition on their daily lives. It would reduce the delay to diagnosis, reduce the need for women to travel outside of Ireland for treatment and improve not only the health outcomes, but also the fertility outcomes of those availing of the services.
It is imperative for both the medical community and society as a whole to give endometriosis the attention it deserves. It is crucial to listen to the experiences of individuals living with endometriosis in Ireland and to have faith in women's accounts.
Whether you have personal experience with endometriosis or simply want to support the cause, this event is open to everyone who is passionate about improving endometriosis health and awareness outcomes.
To register for the event and for more information, please visit the EndoMarch 2023 event page on Eventbrite: https://EndoMarch2023.eventbrite.ie
We hope to see you there to join us in the campaign to raise awareness about endometriosis.
Sincerely,
Kathleen King
Team Ireland EndoMarch 2023
How it will be delivered