To:

Clare County Council
Don't build on Riverside Car Parks in Ennis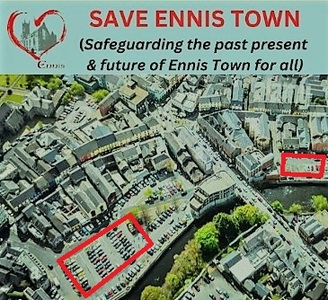 We ask Clare County Council to stop the plan to build on our riverside car parks in Ennis and not to transfer public land to a private company, Ennis 2040 DAC.
We ask them to revitalise vacant and derelict sites instead.
Why is this important?
Clare County Council has developed a strategy to develop Ennis and set up a company, Ennis 2040 DAC, to implement it. The strategy aims to enable Ennis to prosper as a vibrant civic, commercial, cultural and residential centre.
We support these aims but NOT the project they are starting on now - a multi-storey commercial block on Abbey Street car park and a later project for two commercial blocks on Parnell Street car park.
We ask Clare County Council to stop the plan to build on our riverside car parks because:
• It removes car parking that our businesses and mobility impaired people need – a vibrant town needs vibrant businesses
• It is a speculative development for high cost office and large retail that could end up as a white elephant in a prime location
• It hands valuable open public space to private interests, space that is ideal place for our community to gather and enjoy river and town views
• This generic development in the heart of the town could destroy what people love about Ennis - a medieval town with narrow, winding streets and laneways with the beautiful river Fergus meandering through it
We ask Clare County Council not to transfer this public property to Ennis 2040 DAC, a company that can sell it on without consent by the county council or councillors.
There are many vacant sites that exist in Ennis that are ideal for regeneration and development. We ask Clare County Council and Ennis 2040 DAC to focus on these.
Do you want large private buildings on our riverside car parks? If not, please sign our petition and share it with others who also want to stop this madness. You can also sign this petition in person at many of the businesses in Ennis Town
Save Ennis Town is a group drawn from the general public including community, business, retail and political representatives. It formed after a public meeting on 4th May 2023 in the Temple Gate Hotel with over 200 people, all concerned about elements of the Ennis 2040 plans. We aim to have constructive engagement with Ennis 2040 DAC and develop a plan that will enhance our town for everyone.
How it will be delivered
We will deliver this petition to Clare County Council on 10th October at 10am, gathering in Abbey Street car park at 9.30.