To:

Donegal County Council
Community Objection to a Quarry in Raphoe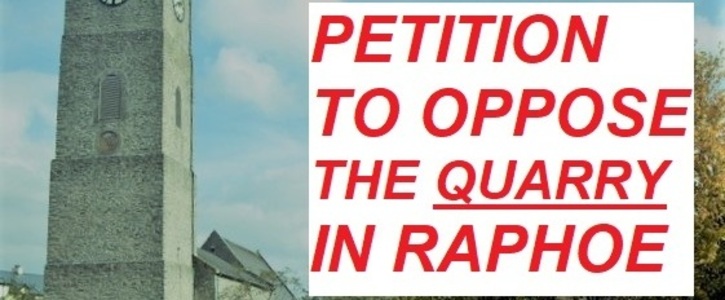 We, the community of Raphoe, strongly oppose the planned development to facilitate "QUARRYING OF 4.81 HECTARES WHICH WILL BE SUBJECT TO EXTRACTION AND PROCESSING OF ROCK BY DRILLING, BLASTING, CRUSHING AND SCREENING" at Magherasolis & Craigs Raphoe.
Why is this important?
Bonar's Quarries are seeking permission for 25 years to open an old quarry that has already adversely affected the lives of residents of this heritage town under planning number 1952015.
It has gone unnoticed by most of the community during the COVID-19 pandemic but those who remember the building damage, noise pollution, air pollution and misery caused when this quarry was last operated will not want it to return.
Unbelievably, the proposal is within just 800 metres of some 23 homes, a secondary school, businesses, multiple farms and within 1 km of Raphoe, a heritage town with a population of over 1000 people and with huge historical and cultural significance.
Raphoe is also home to three other schools, a cathedral, a chapel, churches, numerous businesses including a livestock mart, a tourism attraction in Oakfield Park, forestry and many farms.
We oppose the noise, dust, vehicular traffic, the safety record of the applicant, water pollution, vibration, the location and the release of any poisonous landfill leachate into aquifers, and second the views of the 18 page objection already lodged. There are many more suitable locations for a quarry but this one, on the edge of our town, simply must not go ahead.
Therefore we need as many people as possible to CLICK BELOW TO BACK THIS PETITION and oppose living beside a functioning quarry in Raphoe for the next 25 years.