To:

Minister Ossian Smyth & Minister Stephen Donnelly
Ban Disposable Vapes Ireland

VOICE Ireland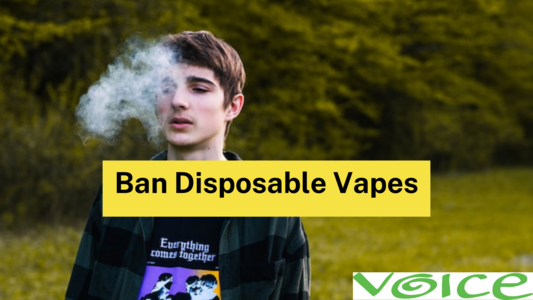 We are creating this campaign so we can unite public opinion in supporting Minister Ossian Smyth in banning disposable vapes in Ireland. We also wish to support Minister Stephen Donnelly as he aims to prohibit their sale to minors. A ban on disposable vapes, is common sense. These products are harmful to our health and our environment.
Why is this important?
Disposable Vapes are a product that have surged in popularity in recent years. These products are a threat to:
1. Public Health - With disposable vapes nicotine is delivered through an aerosol vapor which has been shown to have inflammatory effects on the respiratory system. As well, experts have warned of the potential of disposable vapes to act a gateway for smoking, especially for young people and adolescents.
2. The Environment - Disposable vapes are single-use items that contain plastic, electronics, and lithium-ion batteries. Disposable vapes are more frequently becoming a source of litter on our streets. This can result in harmful waste materials, such as mercury and cadmium, being leached into our environment, negatively impacting human health and biodiversity. These risks are simply not worth the convenience of a single use product!
3. Waste of Valuable Resources - The opportunity cost of global disposable vape production for the green economy is massive. The very materials such as lithium and copper are the precious materials needed for greener technology. It is estimated 90 tons of lithium and 1,600 tons of copper were used for the global production of disposable vapes in 2022. To put this into perspective, this amount of lithium is equivalent to the amount needed to produce 11,000 electric vehicles and is enough copper for 1.6 million electric vehicle charger units
So let's put an end to the madness that is disposable vapes. Let's protect our health, our young people and our environment. Sign the Petition!
Interested in reading more, check out the following source:
https://www.independent.ie/irish-news/minister-defends-plan-to-ban-disposable-vapes-theyre-making-the-world-worse/42071990.html
https://www.independent.ie/irish-news/politics/new-laws-to-ban-sale-of-vaping-products-to-under-18s/42141930.html
https://web.archive.org/web/20220718111558id_/https://www.bmj.com/content/bmj/378/bmj-2021-065997.full.pdf
https://www.ft.com/content/6d5ed980-8b91-4372-9e7e-14eda5419325
How it will be delivered
We aim to deliver this petition and an open letter to Ministers Smyth and Donnelly, which expresses our support for the ban on disposable vapes. Together, let's make Ireland the first country to ban disposable vapes and protect our environment, health, and valuable resources. Please, show your support and sign our petition.
VOICE is the NGO expert in Ireland on waste reduction and circular economy. Go to our website to find out more about us and the work we do, www.voiceireland.org.