To:

TDs
Back the Bill to ban fracking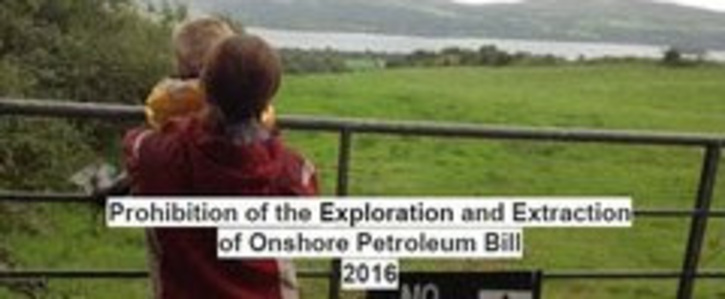 Back @TonyMcLTDs bill to ban #fracking tomorrow @FineGael @fiannafailparty
Why is this important?
There is a Bill to ban fracking coming before the Dail on Thursday 26th Oct. But despite wide cross party and public- support, the government wants to stall its progress until at least June 2017.
Fracking is a dangerous form of gas extraction. It involves pumping chemicals and water deep underground at high pressures that create explosions to fracture the rock and release pockets of gas trapped within it.
The evidence is clear that fracking poses serious risks to public health, the local environment, the climate and jobs in farming and tourism. This evidence has led countries, including France and Germany, and US states such as New York, to ban the process.
The bill to ban fracking was introduced as a private member's bill by Sligo-Leitrim TD Tony McLoughlan. It has received wide support from across the parties, including Fianna Fail, Sinn Fein, the Greens and People Before Profit.
The government has accepted the bill but now wants to stall its progress in the Dail until June 2017.
They claim this is to allow time for the Enivronmental Protection Agency study on fracking to be properly considered by the Department. This study has already been discredited as being conducted by the fracking industry itself, as well as failing to take into account the crucial issue of public health.
The government should allow the bill to move forward without delay. We have the evidence. Fracking damages health, community, environment and jobs. It is incompatable with action on climate change. We can't afford to wait for a year.
It's time for TDs to #BacktheBill and ban fracking now!