To:

Donegal County Council
Stop the development of a dangerous asphalt plant in Burnfoot, Co. Donegal
SA

Campaign created by
South Inishowen Against Asphalt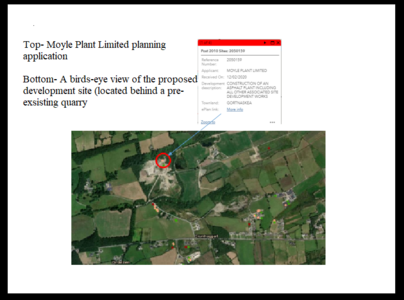 PLEASE SIGN THIS PETITION TO PREVENT PLANNING PERMISSION FOR A DANGEROUS ASPHALT PLANT BEING DEVELOPED IN GORTNASKEA, BURNFOOT!
Why is this important?
Plans have been submitted to Donegal County Council (March 2021) for an asphalt plant to be developed in Gortnaskea, Burnfoot, Co.Donegal. The development will take place behind a large quarry at the foot of the Scalp Mountain.
It will be a seven days a week operation producing up to 100,000 tonnes per year.
Asphalt plants mix sand and gravel with crude oil derivatives to make asphalt to pave roads, carparks etc. They have a huge impact from both an environment and a public health perspective. They release harmful chemicals into the air during production including arsenic, benzene, formaldehyde and cadmium. Exposure to these toxins can cause cancer, central nervous system issues, respiratory problems and skin irritations.
Animal studies have shown that Polycylic Aromatic Hydrocarbon (PAH's) effect reproduction, cause birth defects, and cause damage the the immune system.
We want Donegal County Council to take notice of these grave concerns and to refuse planning permission for this development.
Please sign to support and protect our community's environment and health, and to show that public health is more important that private wealth.