To:

Westmeath County Council/ Government
Save Lough Derravaragh and the Children of Lir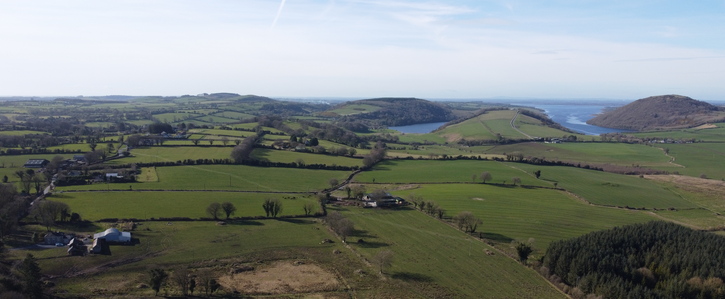 Oppose the development of Crookedwood solar farm
Why is this important?
Over the past few years there have been a soaring number of planning applications across the Island of Ireland to build very large "Solar Energy Farms" covering thousands of acres of agricultural land, with some in high amenity areas. Such projects involve taking over productive food-growing fields with hundreds of thousands of tall solar panels in order to generate "green" electricity for periods typically 35- 40 years.
During this period the farms are unable to grow any food crops or raise animals. Only a few exceptions graze sheep, though this is going out of fashion with the developers. The developers usually offer to "improve the local biodiversity" or similar "green" sounding platitudes but there are no guarantees that the existing wildlife will not be permanently impacted or that the land will be even used for grazing.
Solar photo-voltaic (PV) panels produce electricity from sunlight, but are very inefficient in producing energy compared to their land greed. Offshore wind power and hydroelectric systems, along with nuclear generation are significantly more efficient for their land footprint and have been chosen by the Government as the primary large-scale routes for energy investment towards our net zero goals. Nevertheless, solar developers are keen to cash in on the publicity of the net zero targets whilst they still can, removing valuable food producing land in the process.
Solar panels on individual homes, offices, public buildings, and over car parks can and do contribute to offsetting electricity used in those buildings. The ISEA issued a report in 2022 showing that over 1.3 million homes in Ireland have roof space for solar panels which equates to 13GW capacity meeting 19% of renewable energy targets. County level findings also show that using maximum theoretical potential on each roof that up to 38% of Westmeath's residential energy demands would be met by solar PV in homes. (https://www.irishsolarenergy.org/_files/ugd/dcb342_31fe5681d3fd4f56b322141c9886af5c.pdf)
Energy sent over the transmission network is lost the further it travels, contributing to energy waste. Like a bucket of water with a small hole in the bottom. But this is reduced to almost no loss when installed on a rooftop and used by the building.
These industrial solar energy plants, if needed at all, should be located on previously developed "brown field" sites and rooftops, not on valuable agricultural land. And certainly not adjacent to communities and in areas of high scenic and historic beauty, where they will destroy the public amenity and visual openness of the local countryside.
Over the coming decades as we face up to the challenges of Climate Change, which is predicted to reduce food yields across the globe, we need to be able to produce enough food for ourselves. It is predicted that we will need to produce more food due to increasing populations. We need to be able to feed sustainably and covering viable agricultural land with solar "farms" is NOT the way to achieve this.
It is time to call on the Government to end the development of large-scale Solar Energy "Farms" on prime agricultural land and take other measures to realise the benefits of solar pv such as making it mandatory for a minimum of 50% of all new builds to include rooftop solar power or giving communities the opportunity to participate in community owned projects like those set out in RESS 3 and supported by SEAI.
If this gets approved it sets a dangerous precedent and there are more developments (similar in size) in the pipeline taking up large quantities of our prime arable land.
If you care about the destruction of our countryside and wildlife (protected and unprotected) in our beautiful lake county then please sign and share for others to sign. We need to stop this now! Imagine acres and acres of glass and metal monstrosities where there once was crops, birdsong and animals grazing.
Please Don't let our Lake county become a Solar County.
How it will be delivered