To:

Minister Heather Humphreys - An tAire Heather Humphreys
Irish arts, culture & heritage needs adequate funding & a dedicated government Department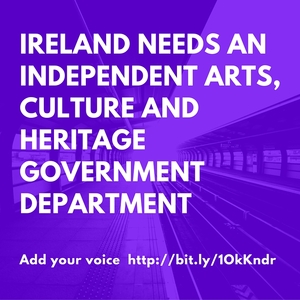 TÁ SÉ RIACHTANACH MAOINIÚ CEART A BHEITH AG EALAÍONA, CULTÚR & OIDHREACHT NA hÉIREANN CHOMH MAITH LE ROINN RIALTAIS ATÁ TIOMNAITHE DO NA CÚRAIMÍ SIN AGUS NA CÚRAIMÍ SIN AMHÁIN.
Give arts, culture and heritage the respect it deserves by creating an independent Department and setting a funding target of 0.6% of GDP (the EU average spend on arts/culture). Ireland has one of the lowest levels of public support in the EU.
Tabhair an t-ómós cuí do na healaíona, don chultúr agus don oidhreacht trí Roinn neamhspleách a thiomnú dóibh agus é a bheith mar sprioc maoiniú 0.6% de OTI (meán an chaiteachais san AE ar na healaíona/an gcultúr) a chur ar fáil dóibh.
Why is this important?
Ireland has one of the lowest levels of public funding and support for arts and culture in all of Europe. Successive Irish governments claim to honour and take pride in our rich cultural heritage, celebrated artists and world-class artistic achievements but consistently fail to nurture and support the creative community.
The Arts, Culture and Heritage communities have suffered disproportionately under the last government. The impact in the sector, on jobs, community and education as well as on our international reputation has not been assessed in any credible way by the incoming government. We demand a) an independent adequately resourced Department is created b) a commitment to raising funding the arts, cultural and heritage sector to European average of 0.6% c) publication of a national cultural policy that has the endorsement of the community.
CÉN FÁTH A BHFUIL SÉ SEO TÁBHACHTACH?
As na tíortha uile san Aontas Eorpach, cuireann Éire an méid is lú maoinithe agus tacaíochta poiblí ar fáil do na healaíona agus don chultúr.. Bíonn Rialtas i ndiaidh Rialtas sa tír ag maíomh as an mbród agus as an mórtas a bhíonn orthu as saibhreas ár n-oidhreacht cultúir, as ár n-ealaíontóirí iomráiteacha agus as ár sár-ghaiscí ealaíne ach, ag an am céanna, déanann siad faillí orthu siúd atá ag gabháil do na healaíona, gan cóir ná tacaíocht ceart a chur ar fáil dóibh.
Tá na pobail atá ag gabháil do na healaíona, don chultúr agus don oidhreacht tar éis fulaingt as cuimse faoin rialtas deireanach. Níl aon mheasúnú sásúil déanta ag an rialtas atá tagtha i gcumhacht ar an tionchar a bhí aige seo ar an earnáil, ó thaobh fostaíochta de, ó thaobh an phobail agus an oideachais de ná ó thaobh ár gcáil go hidirnáisiúnta.
Táimid ag éileamh a) go gcruthófar Roinn neamhspleách a mbeidh dóthain acmhainní tugtha di; b) gealltanas go n-ardófar maoiniú earnáil na n-ealaíon, an chultúir agus na hoidhreachta go dtí meán-chaiteachas na hEorpa, 0.6% den OTI; agus c) go bhfoilseofar polasaí cultúir náisiúnta a mbeidh tacaíocht an phobail aige.