To:

Limerick City Council
Keep New Layout on South Circular Road in Limerick City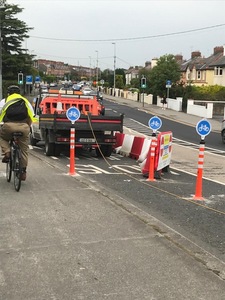 Keep the one way system that has been in place since the 16th July 2020 on South Circular Road permanently
Why is this important?
As Covid 19 cases have started to rise again across the country and in Limerick it is vital that covid mobility measures, put in place to facilitate social distancing, are kept in place for the forseeable future. South Circular Road runs parallel to Ballinacurra and O'Connell Avenue in Limerick City. It is a residential street and over the past month as a result of these Covid mobility measures, locals, both living on the street and in the surrounding neighbourhoods, have found it a pleasure to walk or cycle along, to bump into neighbours and have a chat in the open air, at a socially safe distant, without battling the noise of heavy through traffic or risking their lives as cars speed through. This has all been facilitated by the new one way traffic system, blocking incoming traffic from the Dooradoyle side and preventing the use of the street as a rat run for people accessing the city centre. Now locals from South Circular Road itself and from the suburbs of Dooradoyle and Raheen can use it as a safe cycle route into the city, a quiet, comfortable walking route in the evenings and a place to meet and chat to each other.
South Circular Road could become the ideal road for young people to cycle and walk to school when they return in a few weeks. Over 6,800 students attend university or primary or secondary school on the SCR and many more use it as an access route to other city centre schools. Many of the children attending these schools are local to the city but are driven to school or creche by anxious parents as there currently is no safe road for them to cycle or walk. South Circular Road can be that safe route - reducing traffic in the city, improving the quality of the air we all breathe, giving our young people confidence and independence as they make their own way to school and creating healthy habits that will last them a lifetime. For those that need to drive to school access is retained via the Dock road and Ballinacurra road.
Please sign this petition to show Limerick City Council that the one way system needs to stay and that we, as the people of the city, are in agreement on this.