To:

The Department of Health
Name the Children's Hospital after Dr Kathleen Lynn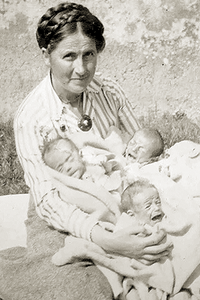 Dr Lynn was one of the first female medical graduates from University College Dublin. She became politically active and worked in Liberty Hall providing food and care for the poor and destitute families during the turbulent time of the 1913 Dublin Lock-Out.
Dr. Lynn's medical career was defined by her work at Saint Ultan's Children's Hospital, which she established in Dublin in 1919, with a group of female activists. Lynn's work with Dublin's inner-city poor had convinced her of the need for a hospital to provide medical and educational facilities for impoverished mothers and infants. Earlier in her career, Lynn had experienced discrimination in applying for hospital positions due to her gender, and Saint Ultan's was the only hospital in Ireland entirely managed by women. Saint Ultan's Hospital grew rapidly, and from 1937 became the centre for BCG vaccination in Ireland.
Dr. Lynn was the chief medical officer for the Irish Citizen Army. At the request of rebel leader James Connolly she joined the Irish Citzien's Army during the 1916 rising and was appointed as Captain and Chief Medical Officer. She provided medical training to members of the ICA and also taught the Cumann na mBan. Dr. Lynn remained active in the Nationalist movement; she was elected vice-president of the Sinn Féin executive in 1917 and in 1923, Lynn was elected to Dáil Éireann as a Sinn Féin TD for the Dublin County constituency at the 1923 general election.
Why is this important?
Dr. Lynn was an incredible woman, revolutionary and role model. She did so much to improve the lives of children in Ireland and she deserves to be recognised. Nothing would be more fitting than a Children's Hospital named in her honour.