To:

Minister for Agriculture, Food and the Marine Mr. Michael Creed T.D.
Vote for a sustainable food future in Ireland!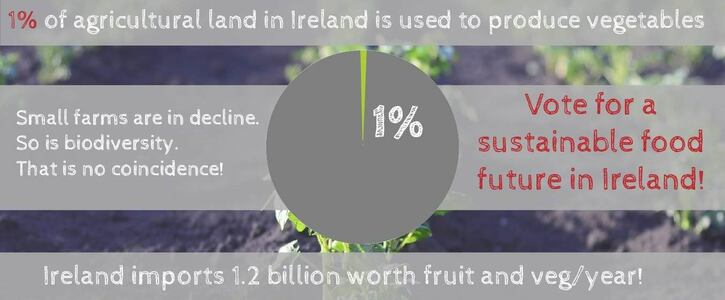 End the expansionist agenda in Irish agriculture.
Why is this important?
Ireland finds itself under increasing pressure to reduce its agricultural GHG emissions. Climate change is upon us and is a serious threat to our environment, social and economic world, subsequently affecting our ability to continue a business-as-usual approach to food production. The state cannot continue to ignore the fact the expansionist agenda in agriculture is not working. It is not environmentally, economically or socially sustainable.
Environmentally Unsustainable:
Under Food Harvest 2020 and Food Wise 2025, our emissions under a best case scenario are set to rise by 6/7% to 2020 Over 53% of water pollution is directly related to agriculture, with one in three rivers and lakes now at risk of further pollution. What's more, biodiversity continues to decline, with rare species on the verge of extinction
Economically Unsustainable:
Ireland's agri-sector is dominated by small farmers, who are struggling to survive. Farmers find themselves caught between pressures in trying to get a fair price for produce and a CAP ( European Common Agricultural Policy) that rewards the bigger land-owner. Farm incomes continue to decline, a fact blamed on falling milk and grain prices, with the OECD-FAO outlook predicting that markets will continue to remain weak
Socially Unsustainable:
A shocking and unacceptable fact is that only 1% of Ireland's agricultural land is used to grow vegetables. Ireland has to import vegetables worth 1.2 billion euro each year, making us vulnerable to fluctuations on the market. Earlier this year, a drought in Spain resulted in higher prices for vegetables. Food prices hikes impact everyone forcing many to substitute vegetables with cheaper, nutritionally poor, energy dense foods. Leading to various health problems. Climate change, political instabilities and other factors can affect imports, if imports stopped today we would have approximately 4 weeks of fresh produce left on our shelves. We are not food secure!
We stand on the side of small farmers, who risk it all, day in day out, to produce healthy food, true custodians of the land, protecting the environment, preserving biodiversity,
keeping skills alive and ensuring that future generations have the opportunity to produce nutritionally good food. These farmers continue to be pushed to the fringes, by the state and the EU.
With this petition we want to show that we stand with these farmers. That we care and all want a sustainable food future.
If you care about what's on our plate, care about local economies and about a sustainable future. Make you voice heard by signing this petition.
Let's speak as one voice to the Irish government and tell them:
- to support small farmers financially
- to support farmers in diversifying their holdings
- to offer supports to increase the amount of vegetables produced in Ireland for food security
- to increase environmental standards in agriculture beyond carbon footprints and give incentives to those who meet and surpass those standards
- to practice the polluter pays principle and heavily fine those who continue to pollute our land and waterways
- to increase reforestation with native species in and around farms, to support farmers in transitions to agroforestry
1. http://www.epa.ie/pubs/reports/air/airemissions/2020_GHG_Projections_2016_Bulletin.pdf
2. http://www.independent.ie/irish-news/water-quality-in-one-in-three-irish-rivers-and-lakes-is-at-risk-of-deteriorating-35850649.html
3. http://www.thatsfarming.com/news/curlew-ireland
4. http://www.independent.ie/business/farming/beef/beef-farmers-will-again-struggle-to-cover-costs-in-2017-35290234.html
5. http://www.irishtimes.com/news/ireland/irish-news/ifa-president-says-farmers-again-struggling-to-make-a-living-1.2057112
6. http://www.independent.ie/business/farming/schemes/system-failure-massive-difference-in-cap-payment-rates-35118778.html
7. http://www.irishtimes.com/business/agribusiness-and-food/average-family-farm-income-down-9-to-24-060-1.3102770
8. http://www.agri-outlook.org/