To:

Cork County Council, Transport Infrastructure Ireland (TII) and National Transport Authority (NTA)
Road Safety for Castlemartyr National School Children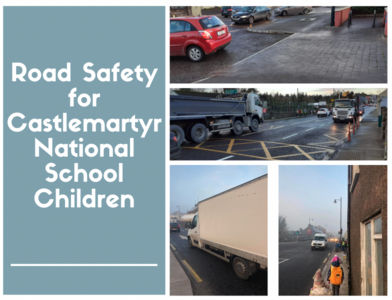 This petition is calling on Cork County Council, Transport Infrastructure Ireland (TII) and National Transport Authority (NTA) to implement traffic calming measures and road safety measures around the area of Castlemartyr National School. Immediate action needs to take place to ensure child safety around the area.
Why is this important?
Castlemartyr National School is based on the busy N25 Cork to Waterford road, less than 200 metres from a busy junction as well as having an adjacent road servicing an estate. The school has been supported by a traffic warden for over 30 years but since November, the school has had to do without a warden due to the safety concerns expressed by a number of wardens who have held the position. Although this position is actively being recruited for, it still leaves the issue of safety around the area of paramount concern.
Traffic surveys carried out at the areas have shown that a large percentage of passing traffic will regularly break the speed limit which is set at 50km/h.
Footpaths opposite the school are extremely narrow and passing traffic is less than one metre away from anyone using those footpaths.
This can mean that large trucks and other vehicles can be traveling at 50Km/h less than one meter away from children or families with buggies walking to and from school.
The School has 245 students with over 170 families as part of its community with many having to travel to the school, particularly families from Mogeely.
Children cycling or using a Scooter to get to school have no option but to use the road or narrow footpath.
Parking in the locality is extremely limited due to the size of the car park in the school. Many people have to find parking locally and then walk to the school.
The entrance to the car park at the school is less than 5 metres from the entrance to Kiltha park which means that there are three lanes of traffic that need to be navigated when crossing the road close to the school.
This also causes concern for local residents as driveways may be used for turning or parking when dropping or picking up children.
The N25 sees upwards of 15,000 vehicles pass through Castlemartyr each day. With such a large volume of traffic passing through a populated village it is vital that the safety of pedestrian and motorists alike is addressed with the highest urgency.
https://trafficdata.tii.ie/sitedashboard.asp?sgid=XZOA8M4LR27P0HAO3_SRSB&spid=5229D2644906
The list can go on but we need action and we need your support, we want Castlemartyr to be a safe place for children going to and from school. Some form of traffic calming has to take place. Please sign and share this petition to show your support and help us ensure our children can walk safely to school.