To:

The Office of Public Works; Cork County Council
Flood relief scheme for Midleton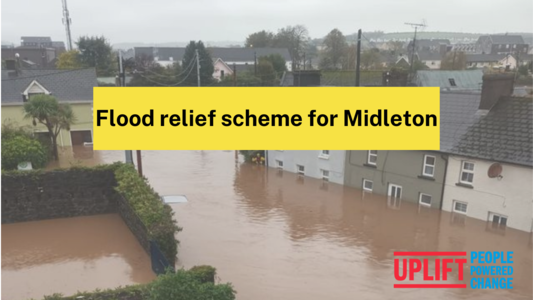 Midleton requires proper flood relief schemes to provide flood protection for the town. Stage 1 of the relief must be expedited, so the scheme can move forward.
Why is this important?
Recent floodings show us that Midleton needs proper protection from flooding, so that residents, business owners and the whole town can feel safe during storms or high tides.
Floods are destroying many homes and businesses in Midleton, recent damages show that the situation is very bad.
The Office of Public Works (OPW) is responsible for leading and co-ordinating flood relief schemes to provide flood protection for towns either directly or in association with relevant Local Authorities.
Midleton needs a proper flood relief scheme, expedited, as the town has already suffered multiple floods. Floor relief scheme can save the town and further suffering of residents. It is vital not only for protecting property and ensuring public safety but also for fostering sustainable development, preserving the environment, and enhancing the community's ability to withstand and recover from natural disasters.