To:

Mr Pat Watt Marketing and Sales Director and Mr Paul Reilly Managing Director
Call On LloydsPharmacy to Accept Labour Court Recommendation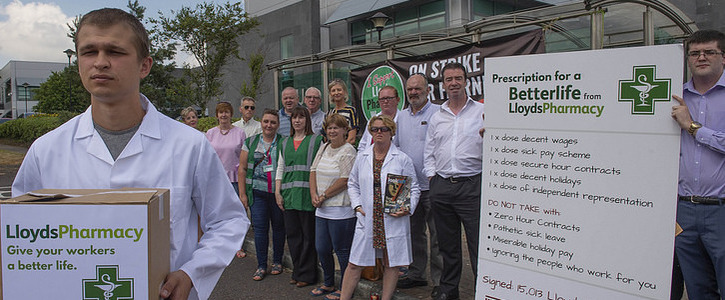 We call on LloydsPharmacy management to accept the Labour Court's recommendation which stated: "the Court recommends that the parties engage in order to seek agreement in relation to the matters raised by the Trade Union…"
As customers of LloydsPharmacy Ireland, we are urging management to engage in good faith negotiations with their workers' representatives Mandate Trade Union in relation to all of the issues in dispute including: fair pay with pay scales; a sick pay scheme; the end of zero hour contracts; and improvements in annual leave and holiday entitlements.
Why is this important?
LloydsPharmacy workers deserve respect from their employer.
In their own words:
"Employee's don't get the credit they deserve. The company are willing to see experienced staff leave rather than pay them what they deserve."
"For the work, advice and care we give to our customers we are very undervalued and underpaid."
"I have no guaranteed hours in my contract even though I normally work 38 hrs. We were rejected for mortgage because I have no set hours in my contract. When I asked for my hours to be put in the contract I was told it couldn't be done. I don't think that's fair."
Our Mandate members do not want to be on strike, and are only taking this action as a last resort. We sincerely apologise for any inconvenience caused to the public but we ask for their understanding as our members are forced to take action.
Lloyds Pharmacy refuses to engage with their trade union despite a Labour Court recommendation that stated: '"the Court recommends that the parties engage in order to seek agreement in relation to the matters raised by the Trade Union…'
Yet Lloyds Pharmacy management continue to ignore the Court, their members and their designated representatives.
Mandate has been campaigning for improvement in working condition in LloydsPharmacy, including:
• A pay increase and incremental pay scales;
• The introduction of a sick pay scheme;
• Security of hours and the elimination of zero hour contracts; and
• Improvements in annual leave entitlements and public holiday premiums.
LloydsPharmacy Ireland operates 88 stores across the Republic of Ireland with approximately 800 staff in their retail business. They are owned by the largest pharmaceutical company in the world, McKesson Corporation, which has revenues of $198.5 billion (€169 billion – more than double the annual revenue of the Irish government).