To:

Minister for Justice and Equality - Charles Flanagan TD
Save Theo Ndlovu from Deportation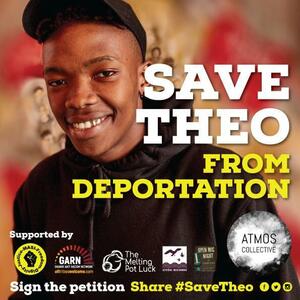 Save Theo Ndlovu from deportation by granting him permission to remain in Ireland.
Why is this important?
Theophilus Ndlovu, aka 'Touché', came to Ireland seeking asylum in July 2016 and has spent the last 3.5 years living in Direct Provision in Galway. As a talented spoken-word and hip-hop artist, Theo has made enormous contributions to the Irish community, performing at countless cultural and charitable events across the country.
He is a founding member of the multicultural music project 'Atmos Collective', and has facilitated numerous music workshops in Galway - teaching, motivating and inspiring hundreds of young people along the way. He is an irreplaceable member of the collective, which was recently granted funding by Galway 2020 as part of their 'Small Towns Big Ideas' scheme, to host community music workshops in the city and county over the next 12 months. Atmos Collective and this incredible project simply could not and will not exist without him!
Theo came to Ireland young and alone. He has talent, passion, and is doing his absolute best to give something positive back to Irish society. His ongoing creative output demonstrates that he is dedicated and well-integrated into the creative community. Impressively, it has all been of his own initiative, despite his challenging circumstances. Hardworking and with an infectious energy and positivity, he has been an outstanding role model in the community and an incredible asset to both Galway and Ireland. We cannot afford to lose him!
Recently, Theo has wrestled with anxiety and depression, brought on by his time in Direct Provision. We have a humanitarian duty to support and protect those who have had to endure this inhumane and degrading asylum system.
Despite all of this, Theo is now facing an imminent deportation order.
Only Minister Charles Flanagan has the power to grant 'permission to remain' to Theo and prevent his deportation.
PLEASE take the time to sign this petition and to email the Minister and the Taoiseach, at [email protected] and [email protected], pledging support to Theo and his future in Ireland – which has become his home.
Contact [email protected] for more details or an email/letter template!