To:

Minister for Justice, Charlie Flanagan
Save Nonso from Deportation
Nonso has been saved from deportation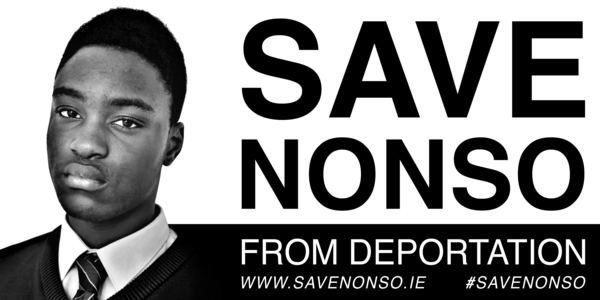 Save Nonso from deportation
Why is this important?
Muojeke Family Case History
Mr. Muojeke, the boys father, died in 2006. Mrs. Muojeke, as a widow, became the property of her husband's brother, as is the custom. She was seriously mistreated by that brother and the rest of the family.
Mrs. Muojeke fled to Ireland in 2007 with her two boys, one 2 year old and one 7 year old.
Vulnerable and very afraid, they lived in a hostel in the Direct Provision System in Dublin before being moved to Co. Laois.
The family applied for asylum based on the horrific treatment of Mrs. Muojeke and her two children.
This was turned down in 2009. Mrs. Muojeke requested the solicitor on the case to file an appeal within the 15 days allowed. He did not do so.
A Deportation Order was then issued and the family moved to Tullamore where Mrs. Muojeke continued to engage by trying to get her file back from the original solicitor. After a very long time she succeeded and, finally, Mr. John Gerard Cullen took up her case and appealed to the Minister of Justice in 2015. The Minister did not reply at first for more than a year. The Minister then refused Humanitarian Leave to remain in 2017. The reasons given included that the older boy will settle well if returned to Nigeria as he settled well, aged 7, when he came to Ireland. Also, it was stated that the severe mental trauma suffered by the children is not a ground for granting Humanitarian Leave to remain. The issue of the best interests of the children was not considered a relevant matter.
Both boys identify totally with being Irish, neither speaks any Nigerian dialect and has no cultural awareness of that country whatsoever.
Why is this case unique?
The boys have been here since they were very young children and have been brought up as active Irish members of their community
Their mother has always sought to engage with the Authorities
They are excellent young persons (one is still a fourteen year old child) who are making, and want to make, a positive contribution to this society
The Irish Constitutional guarantee on the best interests and rights of children is not empty rhetoric; and it must be honoured.
What next?
Minister Charles Flanagan has the power to grant "Leave to Remain" to these boys.
Please go to the following: [email protected] and add your email address to the petition.
Please email the Minister and the Taoiseach ([email protected] and [email protected] pledging support to the children's right to life and education here in their country