To:

Mayo County Council
Protect access to Croagh Patrick for future generations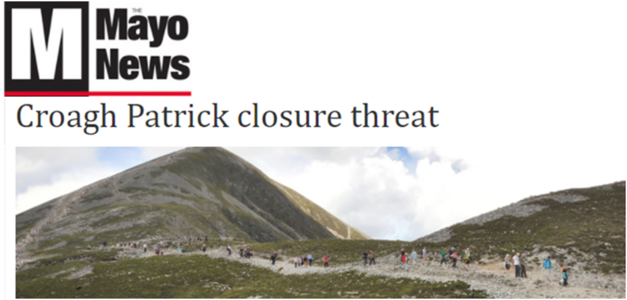 Register the path to Croagh Patrick as a public Right of Way
Why is this important?
Croagh Patrick is the most important pilgrimage site in Ireland and holds a special place in the Irish consciousness.
Each year on Reek Sunday over 25,000 pilgrims climb The Reek in honour of Saint Patrick who, according to tradition, fasted and prayed on the summit for forty days in the year 441 AD.
Pilgrims and other walkers have long enjoyed unrestricted access to The Reek and enjoyed the spectacular views of Clew Bay from the summit. But this access is not recognised as a public right of way by Mayo County Council and this leaves it vulnerable to being permanently blocked off from the public. In fact in 2018 there was a threat to block the path for the summer season which was thankfully avoided at the time.
Sadly, this situation is repeated across Ireland on many of the old or regularly used paths. We may not be able to protect all the paths we use but, at the very least, the public should have the right to access a mountain as iconic and steeped in our history as Croagh Patrick.
In 2021 Mayo Council Council is revising the Mayo County Development Plan and we have the chance to ensure that access is preserved for future generations and cannot be blocked. By signing this petition you will be supporting a campaign to ensure your children and grandchildren can climb Croagh Patrick in years to come. It will protect the path from the threat of "no access" and finally grant people the legal right to walk this ancient path that has been used since pagan times.
We need Mayo County Council to recognise the route as a public right of way in the Mayo County Development Plan. The Plan is now open to public consultation and Keep Ireland Open will make a submission requesting that the mountain path to the summit of Croagh Patrick is permanently listed as a public right of way. This petition will show the huge support for this measure among the public.
PLEASE HELP US TO SPREAD THE WORD BY SHARING THE PETITION ON YOUR FACEBOOK PAGE. SIGNING IS GREAT BUT SHARING AND ASKING FRIENDS TO SIGN IS EVEN BETTER !!!!
Keep Ireland Open is a national voluntary organisation campaigning for the right of recreational users to responsible access to the Irish countryside. Find us on Facebook, Twitter and at keepirelandopen.org