To:

An Bord Pleanala
No more Student and Transient Accommodation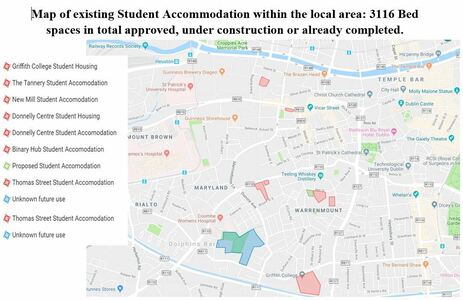 Stop the over concentration of Student and Transient Accommodation in our inner city communities.
Why is this important?
There is an over-concentration of student and transient accommodation in the Dublin Inner City. With regards to student accommodation, the city development plan states that the planning authority "will have regard to the pattern and distribution of student accommodation in the locality and resist the over concentration of such schemes in any one area".
In Dublin 8 alone the total number of student bed spaces in schemes either already inplace, under construction, approved or proposed within 250 metres of the proposed Sweeney Corner development is 1058.
Extending the radius to 1km brings the total to 3752 bed spaces.
In addition to student bed spaces, almost exclusively all other development in the area are providing for transient accommodation. This includes hotels recently built, under construction of approved at Kevin Street (Maldron), directly adjacent at Mill Street (Aloft), the Coombe (Hyatt), Vicar Street and Newmarket, as well as Staycity aparthotels directly adjacent and approved for the Tivoli site on Francis Street.
Finally, 2 other sites in the immediate vicinity of Blackpitts and Donore Avenue which have planning approval in place for an apartment and office scheme respectively, are now back on the market advertising their suitability for hotel and/or student accommodation.
Although the application in question at Sweeney's Terrace provides for a number of build-to-rent apartments, it is still primarily a development of student accommodation.
At this stage, it must be considered that there is sufficient student accommodation in the area, and accommodation of a more permanent nature must be encouraged in order to provide an appropriate diversity of accommodation types.