To:

South Dublin County Council
Kiltalown Park and Jobstown Playground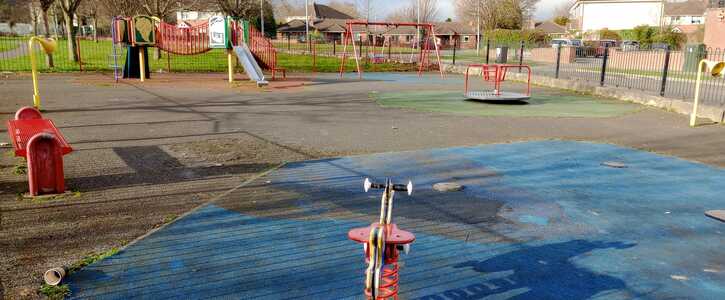 Our parks/playgrounds are community facilities which everyone should have full access to. However due to a lack of funding, investment in facilities and resources our parks and Jobstown playground have become unsafe, unused by the vast majority of people. Many people avoid these public spaces for exercise or socialising. Our Public spaces are an important element of a thriving, equitable community that people can safely and conveniently access well-maintained, well-programmed parks/playgrounds and open spaces. That's because safe and well maintained places to walk, bike, and connect with parks and nature directly contribute to a community's health and wellness. The playground beside the Jobstown Community Centre is in a state of disrepair since council staff were let go. Playground is now locked but children still have access and concerned parents have contacted me regarding this very concerning matter. Over the last number of years, there has been over growth, uneven surfaces and anti-social behaviour with use of drugs and dangerous needles lying about. Young people and residents have unfortunately not been able to access this playground due to the serious neglect of this public space
Why is this important?
What can be done?
Kiltalown and Jobstown Parks and playground should be beautiful public spaces which the community and surrounding areas could be free to utilise. These public spaces require investment in resources to improve the facilities to allow these parks/playgrounds to be opened to our communities all year round.
We are campaigning for:
- Proper lighting to be installed within the parks/playground to increase community activity.
- More facilities such as park benches and exercise equipment.
- Our playground for the children of our communities upgraded and re-opened
- Extend the paved walkways and incorporate the stream in kiltalown park. This would allow for a section of the park to be rewilded and would be a great asset for our local schools in order to have nature walks on our doorstep.
- In other parks South Dublin County Council have invested vast amounts of funding and programs while failing to invest in our parks in South Tallaght, we demand our fair share of that funding and investments.
- Park rangers also to discourage any inappropriate behaviour so that the parks/playground are used in a positive way, so people have a greater sense of security and these community areas attract more users.