To:

Waterways Ireland and Dublin City Council development plan.
Barge residential and commercial mooring permits for The Grand and Royal Canal in Dublin
GL

Campaign created by
Gar Longain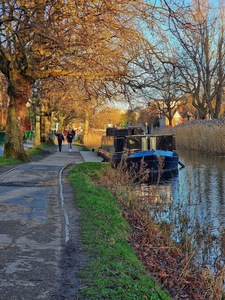 Waterways Ireland ,Dublin City council and The Minister for Heritage.The signatures on this petition are requesting consideration from the Dublin City Council development plan and Waterways Ireland for continuous mooring permits for residential and commercial barges along the Royal and Grand canal in Dublin. We are asking for a fair and transparent application process. We are asking for Extended mooring permits along the navigation for boats who have been refused permits and are in limbo.We are also asking for the long overdue provision of waste water facilities for boats along the Royal and Grand canal via pump out stations and fresh water taps to be located between locks. We would like to see increased moorings for both permanent and cruising boats all along the navigation in Dublin . We would also like to see previous recommendations for coffee docks and various other commercial moorings being made available and put to tender in a fair and transparent manner.

The issue of antisocial behaviour has been prevalent in Portobello Harbour in recent times. Many Portobello residents feel that a presence on the water, by way of a barge community, will help alleviate some of the unwanted gatherings which take place nightly on the canalside. This proposed mooring would breathe new life into the empty and poorly lite stretches adjacent to Portobello Harbour. Furthermore, it will add visually to the area and increase the sense of community for both land and water residence.
Businesses and the local economy have faced a very difficult time over this last 3 to 4 months and many have been closed for long periods of time, with some businesses having recently reopened and others planning to reopen over the coming weeks.
This is also an opportunity as a society to reflect on the use of public space and to possibly reimagine our use of, and relationship with, that space, so that we can reopen our society and city with renewed hope as we recover from the exceptional challenges posed by Covid-19.
It is time for Liveaboard boats in Ireland to have recognition.
Dialogue need to start about moorings , services and permits nationally , not just in Dublin .
There is numerous barges moored for several years on the grand canal without permits or appropriate planning permission . They would like to remain . We would like to discuss the option of getting appropriate permits or retention permission in the near future. We are asking for your help in making this a reality for The grand canal in Dublin.
To stay in touch with the campaign you can follow @theblackbarge on instagram
Why is this important?
Add visually to the area .
Breath life into the canals .
Prevent antisocial behavior in portobello and all along our canals in derelict stretches of water .
Asking Waterways Ireland to deliver on their mission statement.
How it will be delivered
We will be printing and sending the petition to CEO of waterways Ireland and Dublin city council Development plan