To:

Senator Grace O'Sullivan and Deputy Noel Grealish
ACT NOW to stop water charges once and for all!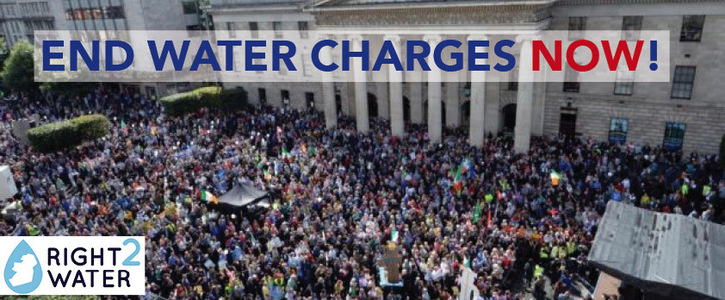 Scrap water charges and end unnecessary metering.
Why is this important?
On Tuesday or Wednesday of next week, the Joint Committee on Water will vote on whether they recommend water charges for "excessive use." This will be a Trojan Horse for bringing in full water charges at a later date.
So far 10 members of the 20 person water committee have committed to scrapping water charges and ending the domestic metering process. If one more member abstains or votes to scrap the charges, the Dail will be instructed to end metering and end water charges for good.
We're asking people to contact two members of the Committee who may support our position.
Senator Grace O'Sullivan of the Civic Engagement Group and Deputy Noel Grealish, Independent TD for Galway West.
We must convince these members to vote to scrap water charges:
1. If metered charges continue, eventually allowances will be reduced and full water charges will be introduced in time – meaning Ireland would have water poverty for the first time in our history.
2. Irish people are not wasteful with their water. In fact, we use less water than almost any other country in the EU consuming 25% less water than countries like the UK where they've had metered charges for almost 30 years.

3. There is a real problem with leaks in the system but only 3% of leaks come from the household side of the infrastructure. Funding should be directed to the public side where 97% of water is being leaked and also to district metering which could identify leaks.
4. A metering process for 'excessive use' makes no economic sense. Firstly, the 'expert commission' on water said there is no identifiable excessive use and using their formula for charging for excessive use would mean spending up to €300 million on a metering programme for a return of €27 million. This is a waste of valuable taxpayers money and would divert money from upgrading the real infrastructural problems.
5. The real agenda behind water charges is privatization. Should the metering process continue, there is no doubt that our water would be privatized in the future.
6. Article 1.9 of the CETA international trade agreement could provide for the privatization of our water in the future and having meters in place would facilitate this.
7. Two thirds of the Irish public voted for politicians who declared opposition to water charges. This is backed up by the Irish Times MRBI poll which shows that 64% of the population want the charges scrapped while only 34% want them continued. It is time to do the democratic will of the Irish electorate.
For these reasons and more water charges must be abolished.
We need you to contact Senator Grace O'Sullivan and Deputy Noel Grealish and demand they abstain or vote to end water charges for good.
Noel Grealish TD - [email protected]
Senator Grace O'Sullivan - [email protected]
As Senator Grace O'Sullivan is representing the Civic Engagement Group on the Water Committee, it is important that we tell the other members of the Committee to support our call. The full Civic Engagement Group includes:
Alice Mary Higgins – [email protected]
Collette Kelleher – [email protected]
Frances Black – [email protected]
Lynn Ruane – [email protected]
John Dolan – [email protected]
Please sign this petition and share with everyone you know. We only have days to protect our human right to water and prevent future water poverty.