To:

RTÉ and All Potential Participants
Irish Call to Boycott Eurovision 2019 in Israel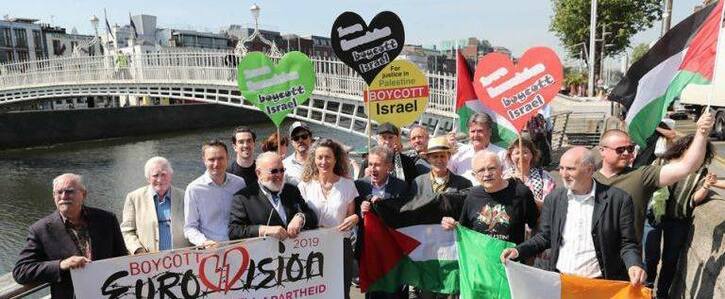 We call on RTÉ, and all potential participants, not to play any part in the 2019 Eurovision Song Contest, due to be held in Israel
Why is this important?
While Israel continues its occupation of Palestine, and oppresses the Palestinian people through policies of apartheid, land theft and brutal violence; while unarmed Palestinian protesters are shot and killed by the Israeli occupation forces; and while Palestinian artists are continuously oppressed by the Israeli state, Ireland should not send artists to perform there.
Instead, Ireland should heed the call from the Palestinian people to boycott the competition in an act of solidarity - a call echoed by Eurovision winner Charlie McGettigan and former Eurovision commentator and legendary broadcaster Mike Murphy. Ireland's Eurovision team should join musicians of conscience like Sinéad O'Connor, Elvis Costello, Andy Irvine, Paul Brady, Roger Waters and most recently Lorde, who have heeded the call to boycott Israel until it complies with international law.
The Palestinian Call for a Cultural Boycott: In 2005, over 200 Palestinian civil society organisations issued a call for an academic and cultural boycott of Israel, modelled on the boycott of apartheid-era South Africa. Since then, thousands of artists all over the world have heeded this call and the list grows daily. In 2010, the Ireland-Palestine Solidarity Campaign launched its Irish Artists' Pledge to Boycott Israel, which almost 600 cultural workers have signed to date. In March 2017, the Musicians' Union of Ireland (MUI) passed a motion in support of the cultural boycott of Israel, urging its members not to perform there until Israel "recognises equal rights for Palestinians and observes international law."
This petition is part of a global campaign, which has already garnered huge support, to boycott the Eurovision in Israel. Here in Ireland we have a proud tradition of standing with the oppressed and against injustice. The word 'boycott' originated here as we fought against colonialism, just as Palestinians are fighting for their freedom today. To send Irish contestants to a Eurovision contest held in Israel would be a betrayal of our great anti-colonial tradition. Ireland needs to stands on the right side of history by standing with the Palestinian people in their struggle for freedom, justice, equality and a true peace.