To:

Eamon Ryan, Minister for the Environment, Climate and Communications. Micheál Martin, Taoiseach. Leo Varadkar, Tánaiste.
Build a Public Awareness Campaign on Climate Change!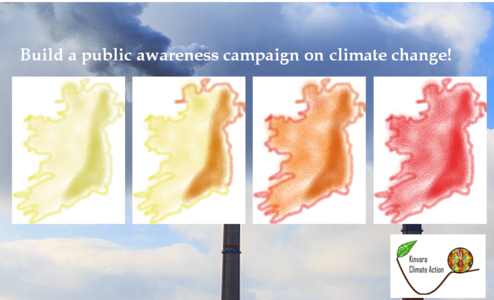 The public need clear leadership from the government on the Climate Crisis. A public awareness campaign on the climate crisis is desperately needed.
Why is this important?
The climate crisis is accelerating rapidly with droughts, wild fires, heat waves and flooding appearing in the news more and more frequently. It is crystal clear that action on the climate crisis is extremely urgent. Ireland has passed into law a climate bill that includes the target of a 51% reduction in emissions by 2030 which will be outlined in the Carbon Budgets. In order to achieve this ambitious target massive changes to the economy and how the country functions will be necessary.
The Irish public is woefully under-prepared for the transition which will need to take place. In the past the Irish Government has run campaigns to build awareness among Irish citizens in matters of public safety such as the covid-19 campaign ( gov.ie - COVID-19 (Coronavirus) (www.gov.ie) and the road safety campaign ( Ireland's Government Road Safety Strategy 2021 - 2030 (rsa.ie). Climate change is a matter that will impact the safety of all Irish Citizens. A public awareness campaign on the climate crisis is desperately needed.
At a minimum the climate awareness campaign should include the following topics.
• The science of climate change, how gases such as Carbon dioxide, Methane and Nitrous oxide are warming our atmosphere and the sources of such gases.
• Information on how these impacts will affect us including food security, water scarcity, increased frequency of drought, fires, flooding and storms, coastal erosion, pandemics and sea level rise.
• Tipping points in the climate system which could accelerate climate change if we don't act quickly enough.
• Build awareness around a 1.5 degree global temperature rise and what it means compared to 2 degree temperature rise.
• Information on what's driving climate change including our reliance on fossil fuels, consumption choices, farming systems, diets and destruction of the natural world.
• Information about how natural systems are under threat and how deeply we are reliant on the natural world; as healthy habitats and species are fundamental to and deeply intertwined with our own health and wellbeing.
• Information about nature based solutions, such as re-wilding, rewetting bogs, slowing water down in catchments, planting continuous cover native forests.
The campaign should be endorsed by respected scientists and overseen by the Climate Change Advisory Council.
Finally, people are feeling powerless in the face of the catastrophe ahead. Collectively we need to push past the denial or cognitive dissonance which has paralysed us, into a place where we actively engage with the issue. The public need clear leadership from the government on the Climate Crisis. Please sign this petition and join us in urging the government to develop the climate awareness campaign that we so desperately need.