To:

Minister for Housing, Darragh O'Brien
Reinstate the Eviction Ban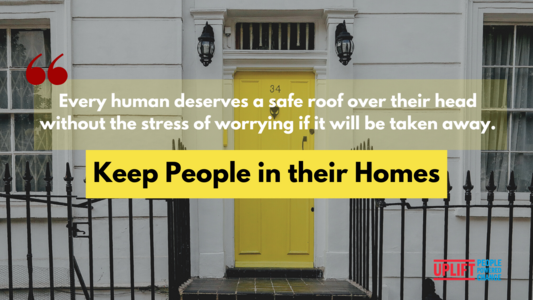 Reinstate the ban on evictions and keep people in their home.
Why is this important?
The Government has decided to lift the eviction ban that is in place until the end of March. A mother who is renting contacted us yesterday, stunned by the ending of the eviction ban. "I can't stop crying," she said. It puts her and her disabled son at serious risk of homelessness. Up and down the country, renters are in a state of panic, fear and anxiety about where they are going to go when the notice-to-quit deadline is reached. Thousands of renters are going to be evicted into a rental market with very little property available, and none that is affordable. Homelessness services will be swamped. There isn't even emergency accommodation available.
Families and children, individuals, will be evicted into homelessness. These are our neighbors, friends, relatives.
These renters have done nothing wrong, paid their rent, this is unfair and unjust. These are tenants homes, in communities, where they work, where their children go to school.
This is a shameful decision that has put the property investment interests of landlords, including vulture fund landlords, ahead of the most basic need of a home for renters.
We need to understand the scale of human misery that will result from this decision. In 2022, a phenomenal 2,734 families and their children (in the region of 5,000 children) were made homeless in Ireland. Most were evicted because the landlord was selling up. The Residential Tenancies Board was notified of 4,643 eviction notices served by landlords from 2021 to 2022.
If the eviction ban is not extended there will be a tsunami of evictions and homelessness unlike anything we have seen in this country.
The government need to feel the pressure from you – the public – to demand that they don't bend to the property landlord lobby.
The eviction ban doesn't stop landlords leaving the market – they can sell up and leave the tenant in place. Local authorities and housing associations have funding now to buy up such property.
Sign the petition calling on the government to reverse its decision to lift the eviction ban and to extend the eviction ban for another year.
Help keep tenants in their homes, keep families and children and individuals safe, and in their home, in their community.
Read:
https://www.irishtimes.com/opinion/2023/03/08/ending-eviction-ban-we-need-to-understand-scale-of-human-misery-that-will-follow-this-decision/
Listen to Rory Hearne's Reboot Republic Podcast episode on why we need the eviction ban extended:
https://open.spotify.com/episode/6KwDUelzbbyDUl9FKK8Ocl?si=BHMpiKIOR8abTpLrZPi1SA
Threshold report on evictions
https://threshold.ie/evictions-remain-largest-issue-facing-private-renters-as-threshold-prevents-over-1000-households-from-becoming-homeless-in-q3-2022/
How it will be delivered
Send to the Minister for Housing