Uproot: Campaigning 101 training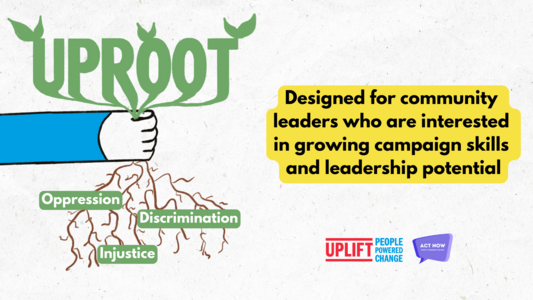 *Make sure to enter your details and click "I'm going" to be registered and to receive a reminder.
People-powered campaigning communities Uplift and Act Now present this year's latest Upskill Academy training series called Uproot - Campaigning 101. Uproot is a series of online campaign workshops designed to help community leaders grow your campaign and leadership skills.
Uproot will be run virtually over Zoom. Beginning on October 5th, 2022 and running for 5 weeks, participants will meet online for two hours between 6pm-8pm on Wednesday evening. It will be highly interactive and will build on participants' experiences.
--------------------------------------------------------
Here's an overview of the sessions.
1. Designing a great campaign plan: Wednesday 5th October at 6pm
This introductory session will focus on identifying a campaign goal, choosing the right target, and working out the best tactics.
2. The power of narrative and messaging: Wednesday 12th October at 6pm
This session will focus on understanding the basics of narrative and framing, and practice messaging campaign goals.
3. Creating inspiring content: Wednesday 19th October at 6pm
In this session we will focus on the science and art of drafting powerful content, both written and visual.
4. Putting it into practice: Wednesday 26th October at 6pm
In this session you will learn how to use a range of digital tools that will get your campaign moving and gathering the support you need to achieve impact
5. Brave leadership: Wednesday 2nd November at 6pm
This final session will focus on you as a leader, what drives you, your values and what helps and hinders you in your leadership work.
-------------------------------------------------------
We hope to see you there!
Join Web Conference
Starts on
Wednesday, 2 November 2022 at 6:00 PM GMT